I've been podcasting for over a year now, and Meeple Nation has a small but loyal following from all around the world. We talk about board games. We have some industry contacts and get to meet cool people. We play a lot of board games.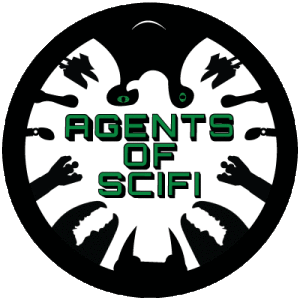 I also was a host of a science fiction podcast, The Agent's of Scifi. We aren't active at the moment, but we had fun producing about 15 episodes. Each episode, we talked through a scifi topic like distopia, robots, cloning, and FTL.
I like podcasts. The following are the podcasts I listen to regularly:
This podcast is like a writing class, except that it is better and free. This 'season' they are even giving homework assignments. Brandon Sanderson and cohosts deliver excellent writing advice each week in 15 minutes. This is always a great start to the week and makes me want to keep going because I want to be doing what they do. I recommend all writers check out this podcast.
This podcast is like sitting down with your friends and having a long chat, except your friends are famous people. Chris Hardwick and company offer so many great guests and offer so much of themselves to appease their audience, which is  so hungry for honesty and sincerity in their entertainment. The language isn't for everyone, but if you want to escape for an hour, this is a fine way to do it.
This podcast is really the best. John and Craig talk about the business and day-to-day minutiae  of screenwriting. This is an insider look at the business and these guys are pros in every sense of the word. They are also delightful to listen to. If you are a writer of any kind, you should check them out. If you are interested in Hollywood, you should listen to Scriptnotes every week, religiously.
I am a huge fan of the Utah Jazz professional basketball team. I have been since I was very young. The statues (John Stockton and Karl Malone) will forever be my heroes. That was a long time ago. Today, the Jazz are struggling, but I'll always be a fan. On this podcast, David Locke does an outstanding job keeping me up to speed on all the intricacies about how the jazz are doing, and he gives his educated opinion on what is happening around the league. If you like the Jazz, you should be listening to him every weekday morning. If you like the NBA, you should at least listen to the first 5 minutes.
This is a newish podcast by three talented screenwriters who offer a great voice, a fresh look on the business, and great guests. They talk openly about the joys, trials, and tribulations about writing screenplays and being in Hollywood. If you want to be a screenwriter or want to be a part of the Hollywood scene, check them out.
Another podcast I listened to for a long time was We're Alive: a Story of Survival, which was a scripted zombie apocalypse show like an old radio play. The podcast ran for 4 seasons until they finished the story. The ideas were great, and the voice acting was serviceable if not stellar. They successfully kickstarted a follow up show called Lockdown. I'm excited to listen to this show again.
Are there any other podcasts you think I should be listening to?