I just got back from the Life the Universe and Everything Symposium held in Provo Utah. They brought in some fantastic authors and artist who presented great content at the various panels over the three day conference. I think the highlight for me was Shannon Hales' keynote address about gender inequality, especially on how we unknowingly under-represent girls and artificially limit what we allow boys to experience. All her points also apply to race, even more so. It was thought provoking for sure.
I have always been drawn to the female protagonist in stories, and one of my favorite when I was a kid was Hero and the Crown by Robin McKinley. I also loved The Blue Sword and Outlaws of Sherwood. To the credit of my parents and older brother, I didn't know that it wasn't cool for boys to read women authors or read stories about girls. I'm grateful that I read so many. Two of my favorite books are The Left Hand of Darkness by Ursula K. Le Guin and His Majesty's Dragon by Naomi Novik. Still, I was the boy who played with his G.I. Joes and He-man figures, though I would act out long-drawn out stories with my Joes, including the female Joes. I professed to hating girl (though I really didn't) for most of my childhood.
Brandon Sanderson was great in all of his panels I attended. He is definitely in his element at these cons. Great guy. I attended koffeeklatches, which are sit down sessions with authors in a small group, with both Dan Wells and Howard Taylor (both of Writing Excuses podcast fame). Both were great. Dan Wells is a board game enthusiast, and the only big time author I approached. I told him that his podcast was a big motivator in starting my own podcast and gave him a Meeple Nation business card.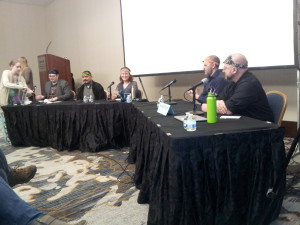 Speaking of Writing Excuses. I attended the live recordings of the podcast, which was awesome. They did a great job and anyone who listens are in for 6 good episodes whenever they come out. I wish I had a chance to listen to Mary Robinette Kowal in more panels. She is amazing.
I paid for a pitch session with an agent, and the experience was kind of weird and sort of helpful. I chose to be a part of a group session with 4 other hopeful writers. Our agent was running late and gave us our ten minutes, but was quickly scanning our paper content for errors. She did give us a bit of good advice and gave me two nice comments on my phrasing in my opening page. Still, she didn't comment on the overall pitch and worth of the story. It didn't feel like she had any intention of actually considering our stuff. I guess it was worth the $20 bucks for the experience.
I have more to write, but I'll save it for another post.